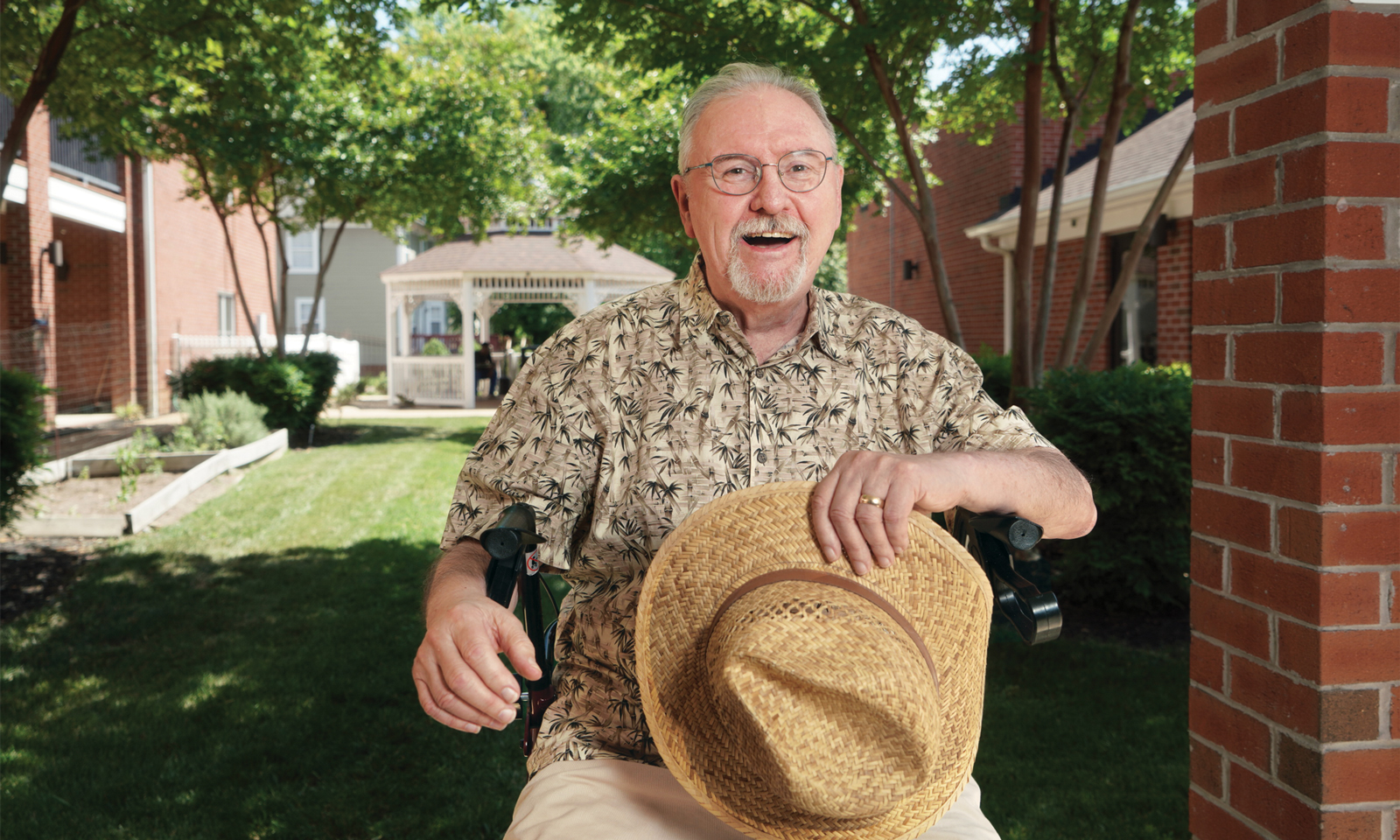 Frank
"Jeanne would have loved this place, too."
Frank and Jeanne shared a 52-year marriage. During her final years, he lovingly cared for her and didn't even realize his own decline. After Jeanne passed, Frank knew that he could no longer live alone at their home. He needed help with household tasks, like cleaning and meal preparation. With assistance from his children, Ward and Courtney, he began the process of searching for an affordable care setting that would meet his needs.
A deacon in a local Catholic parish mentioned Saint Francis, so Frank toured the campus. He was surprised at what he discovered: a spirit of diversity, an instant feeling of connection and options with affordability. When he entered the room that would soon be his, Frank was overjoyed at feeling at home — and the large closet for all his clothes was a bonus!
Since moving to Saint Francis — Manchester, Frank built friendships, participated in activities and programs, and even found a nearby Methodist church where he could attend services. He also found joy in gifting crosses to other residents from his vast collection, as well as showing Jeanne's legacy quilting books to others who welcomed a friendly presence. Desiring to foster spiritual development, Frank also agreed to help launch a new discussion group focused on the spiritual Insight series.
Today, Frank is thriving and socializing, rather than living alone and isolated. "I feel so at home here. There is a spirit to this place that you just can't describe. I only wish Jeanne would have been able to come with me. She would have loved it, too."
Mary
"It's my turn for others to care for me."
Mary's life was plagued with extraordinary burdens and loss. At just 14 years old, when most teens do not have a care in the world, Mary tended to her aging mother and developmentally delayed brother. By age 17, Mary became a mother to Claudette, who she raised by herself because her partner died before meeting their child. Mary found love again and delivered another little girl, Alvinette. However, Alvinette's father unexpectedly passed away, too.
A single mother in her twenties, Mary moved with her daughters to New York. She found jobs, but the hours were long and the work demanding, from cutting cauliflower in the fields with a machete to working in a duck-processing plant. Years passed, and once again Mary found herself caring for her mother and brother, along with her own children. Despite it all, Mary pushed on and married the true love of her life, Joseph. In her thirties, she found a new passion in the restaurant business and worked her way up from washing dishes to training as a sous chef. However, the years of tough, physical labor and arthritis had taken a toll. Mary lost her leg, as well as her dream of becoming a chef.
More hardships followed, including Claudette's sudden death and Joseph's passing. Afterward, Mary moved from one unpleasant situation to another, each offering her little care, comfort or safety. When she finally arrived at Saint Francis, understandably she was guarded and untrusting. Slowly, she responded to the caring staff and community, and eventually her beautiful personality returned. For Mary—whose resilience, grit and determination carried her through hardships and loss—Saint Francis offered stability and a fresh start. After a lifetime of caring for others, finally her burdens were lifted. Today, Mary continues to enjoy the care and comfort she so deserves.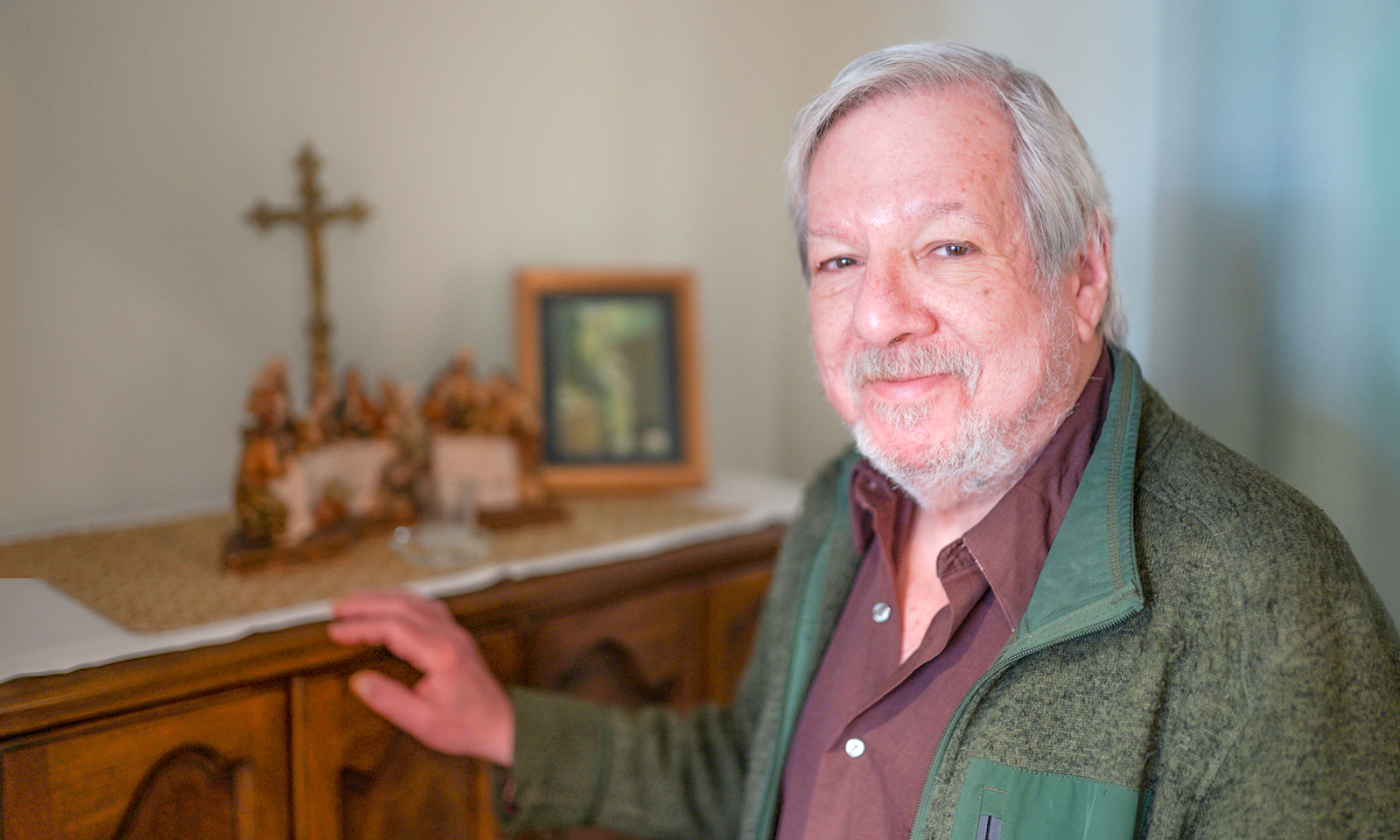 Philip
"I'm so happy to be able to attend Mass again."
Saint Francis was Philip's answer to prayer.
Philip's story began in Brooklyn, New York, where he married, owned a home, raised a daughter, and worked hard building a successful 22-year career with the United States Postal Service. Then he lost his job, which created a series of hardships that changed his life in unexpected ways. While struggling to find work with a comparable salary to cover the mortgage, he and his wife accepted responsibility for the care of their granddaughter. Stress and financial difficulties grew, taking a toll on the relationship between husband and wife. In what felt like one fell swoop, Philip lost his career, marriage, home . . . and soon thereafter, his health. He was diagnosed with cancer, but by the grace of God, the treatment was successful. Shortly thereafter, another blow followed. Philip's estranged wife was diagnosed with ovarian cancer and soon passed away.
Left to raise his granddaughter on his own, Philip began to realize that she was struggling in school and needed a change of pace. She reconnected with her mother, who lived in Richmond, so it seemed the right time to make a change. As arrangements were being made for his granddaughter to move in with her mother, he began searching for his own place to live —only to discover that assisted-living costs far exceeded his resources. Health struggles and hardships had depleted his pension and savings.
This is where Philip's story merges with Saint Francis, which offered the affordable, stable home he was looking for. Philip said that Saint Francis felt like "just the right fit" from the very beginning. "I never thought I'd end up in a place like this," he said. "It's safe, it's clean, and it came along just when I needed it." Philip has called Saint Francis "home" for eight years now, during which he has formed close relationships with other residents. He also has renewed his spiritual self. Though raised Catholic, Philip had not practiced in many years. Now he is regularly attending Mass once again and helping other residents get to the services. In addition, he is volunteering in the chapel as the Sacristan for Mass, working alongside the priest celebrants in preparation for services.
Philip is now happy and secure, as well as eager to visit with his two-year-old great-granddaughter someday soon!
Help give a caring and affordable community to our seniors.